101 Water Level Meter
Solinst Canada
For measuring the depth to water in wells, boreholes, standpipes, and tanks, Model 101 Water Level Meters are the industry standard for portable hand operated meters. The Solinst 101 Water Level comes with two types of probes:
P7 Probe
The P7 Probe is submersible up to 1000 ft. (300 m), therefore, you can measure total well depth in ideal conditions. The sensor at the tip of the probe provides consistent measurements with almost zero displacement. The tape seal plug design allows the probe to be quickly and easily replaced, if required.
P2 Probe
The P2 Water Level Meter Probe is shielded in design to reduce or eliminate false readings in cascading water. The probe consists of a stainless steel body with a neoprene heat shrink seal. It is not suitable for submergence to any significant depth. Its simple design makes it easy to repair.
| | | |
| --- | --- | --- |
|   | P2 Probe | P7 Probe |
| Tape shape | Flat, dog bone shaped polyethylene tape | Flat, dog bone shaped tape |
| Markings | Heat embossed markings: 1/100 ft or each mm | Laser markings: 1/100 ft or mm - certified traceable to National Standards |
| Conductor | 7 strands of stainless steel in each conductor | 19 strands of stainless steel in each conductor, 6 of those are copper coated |
| Tape width | 3/8" (10 mm)  | 3/8" (10 mm)  |
| Max length | 300m (1000ft) | 1500m (5000ft) |
| Probe construction | P2 316 stainless steel Probe with Neoprene heat shrink seal | P7 submersible 316 stainless steel Probe with Delrin® tape seal plug |
| Submersible? | No | Yes, to 300m |
| Probe dimensions | 0.55" (14 mm) diameter, 7.5" (190 mm) length | 5/8" (16 mm) diameter, 5.38" (137 mm) length |
| Probe weight | 200 grams | 128 grams |
With a stand-alone design, convenient carrying handle, and sturdy probe holder, the standard reels are ergonomically designed for ease of use. They are robust and smooth running. The battery is housed in a convenient drawer in the front of the reel, allowing quick replacement. The reels are equipped with an on/off sensitivity switch, light, buzzer, battery test button, brake and a tape guide stored on the frame.
Small Reel

* 

100 ft.
30 m
 

* 

200 ft.
60 m
 

* 

300 ft.
100 m

Medium Reel

* 

500 ft.
150 m
 

* 

750 ft.
250 m
 

* 

1000 ft.
300 m

Large Reel

1250 ft.
400 m
 
1650 ft.
500 m
 
2000 ft.
600 m
* Polyethylene tapes are only available in these lengths
Power Reels

Power reels can be very useful to allow faster or less strenuous operation of longer lengths of tape.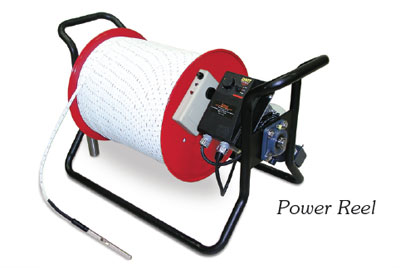 Carrying Case
Small and medium padded nylon carrying cases are available, as an optional extra. Their design has a convenient shoulder strap, zippered front pocket, zippered top, and a grommet in the base to prevent moisture build-up.
R

eplacement Parts 

Replacement probes, tapes and other spare parts are available
Manuals, Datasheets and Guides
Water Level Monitoring Tips
Need Solinst equipment repaired?